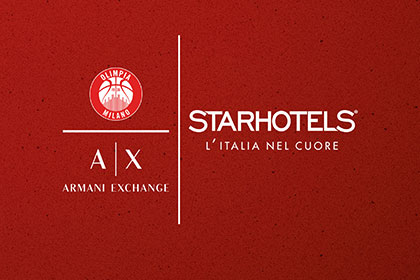 Back
The most successful team and Italy and the country's top hotel group are proud to announce the newly signed partnership for the 2020-2021 season.
This partnership between two outstanding Italian names renowned worldwide will see players, managers and the technical team of the Milan sports club staying in the Starhotels chain in Italy and using their catering and event services.
Starhotels has always been renowned as a leading group in the high-end hospitality sector, thanks to unique locations in the heart of the most beautiful places in Italy, London and Paris, and the elegance and design of its hotels, which boast a distinctive personality that is an expression of the history and style of the location. The welcoming, customised service and the quality of the food and wine guarantee a memorable travel experience.
The Rosa Grand hotel next to the Cathedral, a benchmark for the group in Milan and part of the Starhotels Collezione will to all intents and purposes become the Olimpia team's "home" in the city, hosting the events that will be organised by the team.