Partners
Discover how to accumulate miles staying in Starhotels!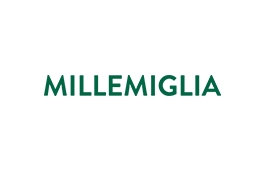 Back
Starhotels is partner of the largest loyalty program in Italy: Millemiglia counts more than 6 million Members. 
For all Millemiglia cardholders:
250 miles for stays in Classic, Superior and Family rooms

500 miles for stays in Deluxe and Executive rooms
750 miles for stays in Suite and Junior Suite
Furthermore, Starhotels enriches its offer with the following benefits:
Club Ulisse

: late check-out (upon request, subject to availability)

Club Freccia Alata and Club Freccia Alata Plus

: late check-out + room upgrade (upon request, subject to availability)
 *except Terme di Saturnia Natural Destination – Starhotels Collezione


TERMS & CONDITIONS:
The miles are not valid for Starhotels reservations booked with special rates like Advance Booking (indicated: Breakfast included - Pay Now) and I AM STAR.
The miles of MilleMiglia program cannot be combined with other programs and/or special promotions/rates.
Miles are credited exclusively on the room occupied by the cardholder.
No miles can be earned for rooms occupied by other persons, even if the stay has been reserved and/or settled by the MilleMiglia cardholder. No miles can be credited on other's Millemiglia card.
How to request your miles:
Just send a simple email request within 3 months of your stay to loyalty@starhotels.it or by fax n. +39 055 36924 including the following data:
-First and last name
-MilleMiglia, Ulisse, Freccia Alata or Freccia Alata Plus code number
-Stay date
-Name of the hotel
For reservations and information:
T:  +39 055 36925
Toll free from Italy, France, Germany, UK, Spain 00 800 0022 0011
reservations@starhotels.it
loyalty@starhotels.it